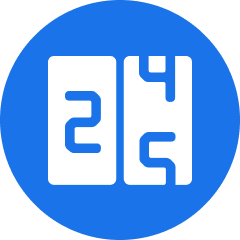 Contador distribuído
Made by Firebase
Registra contadores de eventos em escala para aceitar gravações de alta velocidade no Cloud Firestore.
Como esta extensão funciona
Use this extension to add a highly scalable counter service to your app. This is ideal for applications that count viral actions or any very high-velocity action such as views, likes, or shares.
Since Cloud Firestore has a limit of one sustained write per second, per document, this extension instead shards your writes across documents in a _counter_shards_ subcollection. Each client only increments their own unique shard while the background workers (provided by this extension) monitor and aggregate these shards into a main document.
Here are some features of this extension:
Scales from 0 updates per second to a maximum of 10,000 per second.
Supports an arbitrary number of counters in your app.
Works offline and provides latency compensation for the main counter.
Note that this extension requires client-side logic to work. We provide a TypeScript client sample implementation and its compiled minified JavaScript. You can use this extension on other platforms if you'd like to develop your own client code based on the provided client sample.
Additional setup
Before installing this extension, make sure that you've set up a Cloud Firestore database in your Firebase project.
After installing this extension, you'll need to:
Update your database security rules.
Set up a Cloud Scheduler job to regularly call the controllerCore function, which is created by this extension. It works by either aggregating shards itself or scheduling and monitoring workers to aggregate shards.
Use the provided client sample or your own client code to specify your document path and increment values.
Detailed information for these post-installation tasks are provided after you install this extension.
Billing
To install an extension, your project must be on the Blaze (pay as you go) plan
You will be charged a small amount (typically around $0.01/month) for the Firebase resources required by this extension (even if it is not used).
This extension uses other Firebase and Google Cloud Platform services, which have associated charges if you exceed the service's free tier:
Cloud Firestore
Cloud Functions (Node.js 10+ runtime. See FAQs)
O que pode ser configurado
Cloud Functions location
Caminho do documento para estado interno
Recursos criados
Tipo: Cloud Function
Descrição: Programado para ser executado a cada minuto. Essa função agrega os fragmentos por conta própria ou programa e monitora os workers responsáveis pela agregação.
Tipo: Cloud Function
Descrição: Maintained for backwards compatibility. This function relays a message to the extension's Pub/Sub topic to trigger the controllerCore function.
Tipo: Cloud Function
Descrição: Detecta alterações em fragmentos do contador que podem precisar de agregação. Essa função está limitada ao máximo de uma instância.
Tipo: Cloud Function
Descrição: Monitors a range of shards and aggregates them, as needed. There may be 0 or more worker functions running at any point in time. The controllerCore function is responsible for scheduling and monitoring these workers.
Como instalar a extensão
Como usar a Firebase CLI
Para instalar e gerenciar extensões, também é possível usar a Firebase CLI:
Etapa 1: execute o comando npm (em inglês) a seguir para instalar a CLI ou atualizá-la para a versão mais recente.
npm install -g firebase-tools
Não está funcionando? Consulte a
referência da Firebase CLI
ou altere suas
permissões do npm
(em inglês).
Etapa 2: execute o comando a seguir para instalar a extensão.
firebase ext:install firestore-counter --project=projectId_or_alias
Links úteis
Licença
Apache-2.0
Versão
0.1.5