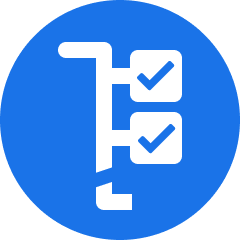 Limitación de nodos secundarios
Made by Firebase
Limita los nodos de una ruta de Realtime Database al número máximo especificado.
Funcionamiento de la extensión
Use this extension to control the maximum number of nodes stored in a Firebase Realtime Database path.
If the number of nodes in your specified Realtime Database path exceeds the specified max count, this extension deletes the oldest nodes first until there are the max count number of nodes remaining.
Additional setup
Before installing this extension, make sure that you've set up a Realtime Database instance in your Firebase project.
Billing
To install an extension, your project must be on the Blaze (pay as you go) plan
You will be charged a small amount (typically around $0.01/month) for the Firebase resources required by this extension (even if it is not used).
This extension uses other Firebase and Google Cloud Platform services, which have associated charges if you exceed the service's free tier:
Cloud Functions (Node.js 10+ runtime. See FAQs)
Firebase Realtime Database
Opciones que puedes configurar
Cloud Functions location
Ruta de Realtime Database
Número máximo de nodos que conservar
Recursos creados
Tipo: Cloud Function
Descripción: Escucha si hay nodos secundarios nuevos en la ruta de Realtime Database especificada, comprueba si se ha superado el número máximo y, en ese caso, elimina los más antiguos para mantener el límite fijado.
Instalación de la extensión
Con la consola de Firebase
Para instalar y gestionar las extensiones, puedes usar la consola de Firebase.
Instalar con consola
Con la CLI de Firebase
Para instalar y gestionar las extensiones, también puedes usar la CLI de Firebase:
Paso 1: Ejecuta el siguiente comando npm para instalar la CLI o actualizarla a la versión más reciente.
npm install -g firebase-tools
¿No funciona? Consulta la
referencia de la CLI de Firebase
o cambia los
permisos de npm
.
Paso 2: Para instalar la extensión, ejecuta el siguiente comando:
firebase ext:install rtdb-limit-child-nodes --project=projectId_or_alias
Enlaces útiles
Licencia
Apache-2.0
Versión
0.1.2